THE KO KLUB
JOIN OUR KO.MMUNITY OF TASTEMAKERS WHO ARE LOOKING TO TRY SOMETHING NEW.
DISCOVER THE DELICIOUS ORIGINALITY OF LIMITED EDITION KENYAN ORIGINALS (KO) GINS, AVAILABLE ONLY AT THE KO KLUB.
MADE TO MIX THINGS UP FOR THOSE WHO STAND OUT.
KO Klub releases a funky Limited Edition Gin every 2 months.
Each Limited Edition Gin is available through a beautifully curated box for a complete offering.
In the box you will find:
Each Limited Edition Gin Box is KES 9,000 and is only available for a limited time, so hurry up! You don't want to miss the chance to have them all in your ginlection shelf.
We're not done! Remember the bigger KO.mmunity we talked about? The tastemakers?
Joining it is really easy: all you need to do is buy a box and subscribe to our newsletter, to access a gintastic world made of private tasting events at the Kraft Room in Nairobi and a Whatsapp group where we discuss all gin-love stuff.
As a KO Klub Member you'll also make up an essential part of developing the yearly "KO Klub Members Edition Gin," as well as access to dedicated offers on the KO Klub section of our online shop.
Available for a limited time
More Gin,
More Wins!
The more boxes you get, the more we give.
This month's Limited Edition Box
You need to purchase another Box to access this content
Distilling only the juiciest pineapples, a fruity gin combining notes of sweet and ripe pineapple, caramel and floral candy

To complement this gin, the KO Klub box also includes:

– 2 KO Classic Tonics
– 1 Recipe Card
– Mango & Pineapple Trail Mix from Healthy Kajuju
– Brazil Nuts from Indulge
KSh 7,758.62 excl. VAT
Available for a limited time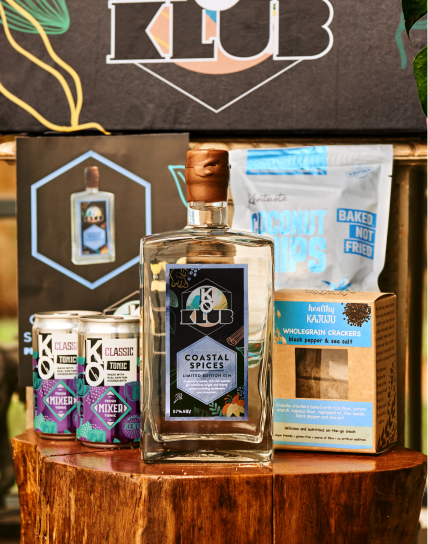 KO Coastal Spices Gin Box Level 1
This month, we want you to enjoy the delicate deliberations of our KO Coastal Spices Gin, which is the first release of the KO Klub Limited Edition Series. Inspired by Lamu's essence, KO Coastal Spices Gin is distilled with a combination of bright and woody spices: cardamom, cinnamon, cloves, ginger, black pepper, tamarind, and washed with the creaminess of coconut.

To complement this gin, the KO Klub box also includes:

- 2 KO Classic Tonics
- 1 Recipe Card
- Coconut Chips from Kentaste
- Black Pepper & Sea Salt Crackers from Healthy Kajuju
KSh 7,758.62 excl. VAT
Available for a limited time