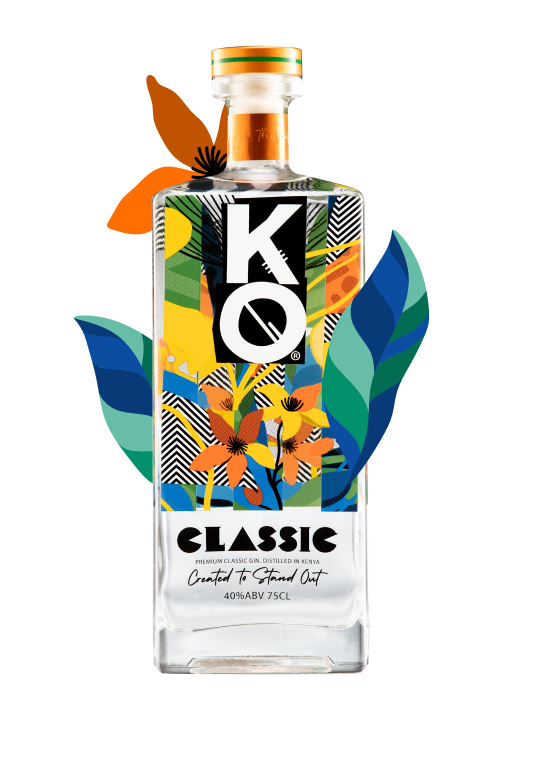 Kenyan Originals Classic Gin
KSh 2,513.00 incl. VAT
Enjoy a flavour safari through four local regions for an authentically Kenyan drinking experience. Adventure through the foothills of Mt Kenya and hand picked roses giving a complex, sophisticated sweetness, balanced with the fine taste of licorice root from Malindi, the tang lemongrass from Kabati and a subtle hint of bay leaves from Kimangop.
Options available for purchase
KO CRAFT GIN'S
ORIGINALITY
BOTANICALS IN THE GIN










Distiller
Notes
Floral notes between fruity pepper and fresh orange zest. Sweet wholesome pine trees, spicy wood bark, dried green leaves.
Pepper spice and red berry fruitiness dance with rounded sweet orange and rose. In the background: brilliant, bright, and complex subtle spices burst through in harmony, creating images of a spice garden in a jungle.
Pungent phenolics linger and tickle your tongue on the way down, inviting you to take another sip.
A robust and aromatic gin. Spice garden in a jungle
Mix KO Craft Classic Gin with KO Classic or
KO Light Tonic. Crush whole black peppercorns over
ice right before the serve.
This aromatic gin pairs perfectly with white fish,
especially if lemon marinated.
Craft Gin from Kenya
Kenyan Originals Craft Classic Gin is carefully crafted with Kenyan Botanicals.
We source our Bitter Oranges directly from Kilifi, where orange trees flourish thanks to the fertile and well drained soils. We get the freshest lemongrass from Kabati, the most tasteful bay leaves from Kinangop, and handpick the roses from the foothill of Mount Kenya, where the crisp air and the soil full of minerals give these flowers a powerful scent.
CLASSIC GIN Gin Reviews
Only logged in customers who have purchased this product may leave a review.