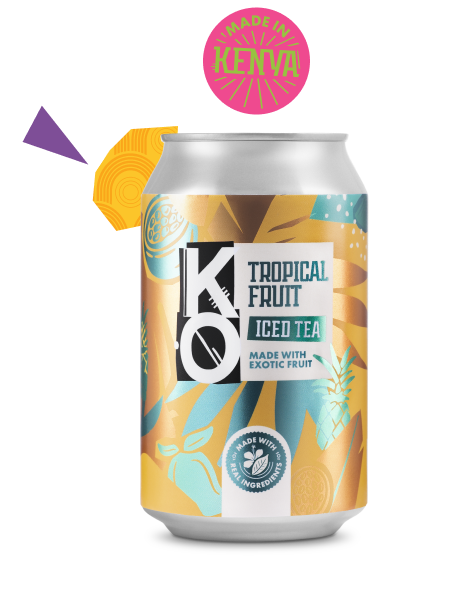 Kenyan Originals Tropical Fruit Ice Tea
KSh 122.41 excl. VAT
Indulge in the taste of Africa with Kenyan Originals (KO) Tropical Fruit Iced Tea. Made with the finest black tea from Kericho, and blended with real mango, passion fruit, and pineapple juice sourced from Kenya, this refreshing iced tea brings you an authentic taste of the tropics. Crafted with 100% natural ingredients and free from additives or preservatives, KO Tropical Fruit Iced Tea is a true celebration of Kenyan flavours. Experience the unique blend of sweet and tangy tropical fruit flavours with every sip.
Tropical Fruit
Iced tea's ORIGINALITY

Ingredients in the ICED TEA
Black Tea from Kericho
Mango
Passion Fruit
Pineapple Juice

ICED TEA MAKER NOTES
A mix of mango, passion and pineapple from Kenya served with the astringent notes of African tea for the perfect serve

AROMA
Fruity mango, pineapple and passion fruit aroma with assertive mango notes


Serving & Pairing
suggestions
For a refreshing taste of Kenya, serve KO Tropical Iced Tea chilled or poured over ice with a half of passion fruit or a slice of pineapple.
This fruity iced tea pairs perfectly with goat choma and kachumbari, as well as ice-cream, making it a versatile beverage that's perfect for any occasion. Try it now and experience the unique blend of sweet and fruity African flavours in every sip!
Craft iced tea from Kenya
Kenyan Originals Tropical Fruit Iced Tea is carefully crafted with ingredients from Kenya. 
We source our black tea directly from Kericho, at the edge of the Mau Forest, where the warm and temperate climate make it the perfect location for the cultivation of tea. We get the freshest Mangoes, Passion Fruits and Pineapples from farmers around Kenya.
Tropical Fruit Iced tea Reviews
Only logged in customers who have purchased this product may leave a review.